During the spring 2016 semester, the Henry Madden Library has the unprecedented opportunity to present a retrospective exhibition of artwork by Kristin Saleri (1915 to 1987), a pioneering 20th century artist of Armenian heritage who lived and painted in Istanbul. Despite the challenges presented by her gender and ethnicity, she secured her place as a member of the founding generation that created modern art in Turkey.
Kristin Saleri received art training in Paris, was influenced stylistically by Impressionism and used her art to convey a message of modern feminism. Her work is filled with rich images evoking her love of the vast Anatolian landscape and its people: from women in traditional village dances to Bosporus fishermen to laborers in booming post World War II factories. Stylistically, Saleri's work presents a harmonious blend of Eastern mysticism and Western Impressionism. Her folkloric themes range from Christian images to whirling dervishes, from Mother Earth to the Tree of Life. Her message was one of inclusivity, expressing her deep appreciation for the range of diversity in nature and humanity.
Henry Madden Library's Spring Exhibition
February 6 through May 31, 2016
Leon S. Peters Ellipse Gallery and Pete P. Peters Balcony Gallery in the Henry Madden Library
The exhibition is curated by Fresno natives Joyce Kierejczyk and Carol Tikijian, who also curated a spring exhibition at the Fresno Art Museum of works by artists of Armenian descent in commemoration of the centennial of the Armenian genocide. The artworks exhibited are on loan from the family of the artist, who reside in Houston.
Gala Donors Opening Dinner
February 5, 2016 at 6 p.m.
Second floor outside Leon S. Peters Ellipse Gallery, in the Henry Madden Library North Building
Public Opening Reception
February 6, 2016 from 6 p.m. to 8 p.m.
Second floor outside Leon S. Peters Ellipse Gallery, in the Henry Madden Library North Building
This is a free event.
Join Peter McDonald, Dean of Library Services, and the Discovering Kristin Saleri Committee for the Gala Donors Opening Dinner with the artist's family and a preview of the exhibition on Friday, February 5, 2016 at 6 p.m. Tickets for this three-course catered dinner are $100. For sponsorship opportunities, please call Marcie Morrison (559.278.7177).
For More Information
For the artist, visit www.kristinsaleri.com.
For the exhibition, contact Cindy Wathen at her office (559.278.1680), on her mobile phone (559.593.3604). or email her at ciwathen@csufresno.edu.
For disability accommodations or physical access, please call 559.278.5792 in advance of your visit.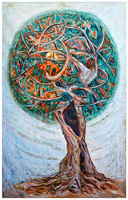 ---
Sponsors
The Henry Madden Library is grateful to the following sponsors of this event:
---
Curator Sponsor
Larry Balakian
Barbara Berberian
Rose Dolarian
Garabedian Foundation
Joyce and Bob Kierejczyk
Emiko Taketomo
Collector Sponsors
Lena and Varoujan Altebarmakian
Jane and Marvin Baxter
Karen Dorian
Karen and Bruce Esajian
Janice Maroot
Marcie Morrison
Annette Paxton
Gladys K. Peters
Lorraine Peters
Barbara Serimian
Carol Tikijian
Barbara and Robert Vartan

---