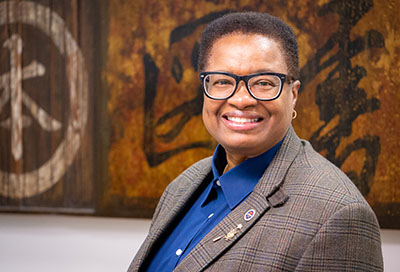 As the world is working together to face our uncertain times, I wanted to reach out to our supporters to let them know how the Henry Madden Library is aiding students, faculty, and Fresno State's intellectual life. Every decision we make is guided by the University's long-standing commitment to putting the support of students at the center of our work.
The Henry Madden Library is the intellectual hub of Fresno State, where we envision our space as a catalyst for bold investigation and knowledge creation. But what happens when our space is closed and our students and faculty are expected to work from home without direct access to our building?
That's when we double-down on our mission to boldly empower our students for success and put the deep bench of our librarians and innovative resources at the forefront:
Virtual Services
For several years, the Madden Library has developed and operated several online services to help our community working off-campus. These services include chat, email, and phone consultations with librarians, Zoom conferences, and an ever-growing collection of e-resources to support research and inquiry without having to come into the building. Early in March, our Research Services team pulled these library virtual resources together into a single location on our website. A Madden Librarian is on the "virtual desk" weekdays from 9 a.m. to 5 p.m. And our chat services are monitored 24/7 for questions and help. Today, the vast majority of students and faculty can do exceptional research with the help of a librarian using our online services and resources.
Tech Lending And Support For Our Library Partners
Students who do not own their own computers, tablets or necessary equipment for their online courses are able to check out items from our Tech Lending station in Access Services. We have also instituted a new paging service and online system for requesting materials from our building. And we maintain essential service hours for our partners in DISCOVERe and the Services for Students with Disabilities, so that they could help our students in this extraordinary time.
Supportive Resources For Our Community
Librarians are great at information. It is, after all, what we do! Madden Librarians took the time to create this LibGuide for students, staff and faculty, and for our community. They update the resource regularly, making it a living document offering resources for:
Campus, City, State, and National resources on our current public health situation
Textbook and research resources for students and faculty
Internet access, software, and technology resources for our community
Tips for remote learning and wellness
Support for meeting basic needs, finding housing and employment
Please feel free to peruse the LibGuide to see the kinds of work our librarians can offer our community at any time.
The Henry Madden Library has the tools and expertise to support our 25,000 students thanks to your ongoing support, with or without a building! In the weeks and months ahead, we will keep you informed of how the Madden Library moves forward and how you can be involved in supporting students in their learning with us.
With gratitude,
Dean Del Hornbuckle