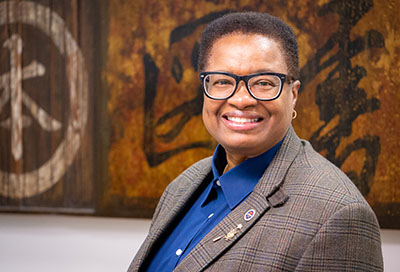 I'd like to offer congratulations to everyone in our library, our campus, and our community on the completion of 2020 amid challenging circumstances. There were many struggles, stumbles, and changes for us all, but we are optimistic for better days to come.
During the spring semester of 2020, the Henry Madden Library rose to the challenge of providing all-virtual services to our diverse users. In the fall, we opened up our first floor for limited services so that faculty and students could request library materials online and pick them up in a safe and efficient manner.
Looking forward to Spring 2021, our goal is to provide all of our campus with the best, most accessible resources possible, and to do so with care and compassion. Our world may be rapidly changing, but we endeavor to be a fixed point of reference for our entire academic community.
Library Services
In addition to our library's virtual services and the in-building pick up for materials, Madden Library has expanded our Virtual Library Workshops for students, allowing more students than ever to improve their skills in research, citations, and scholarly writing. Our digital badging program has also grown tremendously this year, due to its flexibility in helping students gain information literacy skills. And once again, we teamed up with the Writing Center to host a Write-In to help students prepare their final research papers and projects. While we miss the personal touch of working with students face-to-face, shifting these events online has allowed us to help more students succeed than ever before.
Tech Lending
Thanks to the work of generous donors and CARES Act funding, our Tech Lending program added noise-canceling headphones and Logitech headsets to our roster of tech items helping  students study at home and participate in online classes more effectively. We also refreshed our laptop, tablet, and Google Chromebook stock, while expanding our list of peripherals such as Apple pens, surface pens, wireless mice, Bluetooth microphones, and more. All of these items support students like Marisol Turner who needed emergency equipment to complete online quizzes and projects for her classes.
Virtual Events
Finally, Madden Library has also hosted several virtual events to help keep our community engaged with all that we have to offer. Our Special Collections Research Center, Music & Media unit, and Research Services unit have all presented informative and engaging programs on what makes Madden Library unique. You can find more videos about the library's work at our YouTube Channel and follow us on social media to hear about new events.
We want to thank each and every one of you for your friendship and interest this year. May the spirit of renewal be with us all in 2021.
— Dean Del Hornbuckle