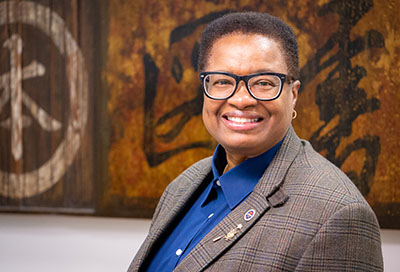 We've come a long way since last November when our campus discovered the antisemitic and racist views of our library's first dean. Since then, a task force has researched over 100,000 documents in our archives, President Jiménez-Sandoval made his recommendation, and the CSU Board of Trustees voted to remove the name "Henry Madden" from our library's identity. We support this decision and look forward to moving ahead, providing a welcoming space for intellectual inquiry in the heart of the Fresno State campus.
For the time being, our library will be simply referred to as "Library" on signs and logos or "Fresno State Library" when more context is needed.
Efforts to remove Madden's name from signage, websites, and other locations on campus are now underway. This process is expected to take several months and will begin with the most visible web properties and signage. We will continue to identify and prioritize items that need to be changed throughout the 2022-23 academic year. Our library has dozens of spaces and over 2 million books, items, databases, web properties, and resources that will need to be updated, so we appreciate the community's patience with the process.
The removal of Madden's name from our building and services is a complex decision, but we know it is grounded in scholarly research, and community input, and reflects our values as an academic library committed to good information. FAQs and more information on the name removal and the task force's findings are available on their website.
And now we look toward the future. President Jiménez-Sandoval is forming a group to evaluate the CSU and Fresno State policies for determining the appropriate name recognition of the Fresno State Library and a future new name.  More information on this effort will be available soon.
We who work every day in this beautiful library building are committed to creating a space where everyone can access information freely and where diverse voices are heard. The Fresno State Library's commitment to truth, reconciliation, and understanding has grown far beyond its name in the past several months. We've embraced research, knowledge, and our values to guide our true identity. We are so much more than a name, and we are here for you.
Sincerely,
Del Hornbuckle
Dean of Library Services