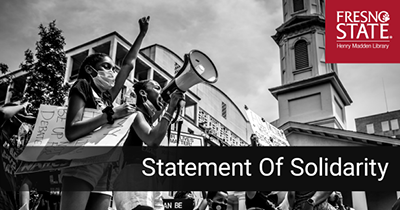 We at the Fresno State Library, along with our Fresno State community, are anguished and angry at the killing of George Floyd at the hands of officers from the Minneapolis Police Department. Anguished at the violent and unjust loss of life and angry at the systemic racism and lack of accountability from the institutions that are mandated to safeguard the liberty of everyone. 
Words cannot erase the centuries of violence against Black people, nor can they bring back the lives of George  Floyd, Breonna Taylor, Ahmaud Arbery, Tony McDade or the many others who have lost their lives or liberty to white supremacy. Nonetheless, we stand in solidarity with our Black and Brown students, staff, faculty, colleagues, and community members. We emphatically oppose the racism, prejudice, and hatred that has permeated our society.
Our library values freedom of expression, and so we wholeheartedly support those protesting racism and police brutality. Our library and university honor diversity as a core value, and as such we lift up the African American community, who are so profoundly affected by this violence, and we welcome them in our library.   
This time of upheaval is also happening alongside a global pandemic, and COVID-19 has also brought into sharp focus other kinds of prejudice and injustice: incidents of anti-Asian racism are still reported and Black, Latinx, Native and trans communities are disproportionately suffering infection, death, and economic insecurity. We deplore this inequality at the hands of racism and bias. 
Libraries value equitable access for all people and we will continue to strive toward that ideal. However, libraries are not without their own historical biases. Those biases influence our services, collections, and programming, despite our best intentions. So now is the time to engage in thoughtful critique of our practices and our profession. 

To those working in our library: The library management team is committed to doing that work with you all. It is imperative to acknowledge the experiences of our Black colleagues and we will not ask those colleagues to bear the burden of our anti-racist work. We support our colleagues of color, as well as our colleagues from all marginalized communities, as we acknowledge the harmful biases in our processes. Our work together will not be easy. It will require discomfort, personal reflection, and meaningful action to address the problems in our systems. 

To our Fresno State community: The Fresno State Library joins those throughout the University and the nation in honoring lost lives, standing with Black students, faculty and staff, and uniting against racism. We will work to dismantle prejudice against all oppressed people. We join you in working toward justice and healing. 
We care about you. We stand with you. We are here for all of you.
Sincerely,
The Fresno State Library Management Team, June 7, 2020
Del Hornbuckle, MLIS, Dean of Library Services
Marianne Foley, MLIS/MA/MS, Director of Library Technology and Collection Management
Glenda Harada, Director of Administrative Operations
Sarah McDaniel, MLIS/MA Director of Learning & User Services
Marla Libraty, Director of Development