Arne Nixon Center Collections
Here are our collections, finding aids, as well as a list of other children's literature collections and organizations:
Arne Nixon Original Library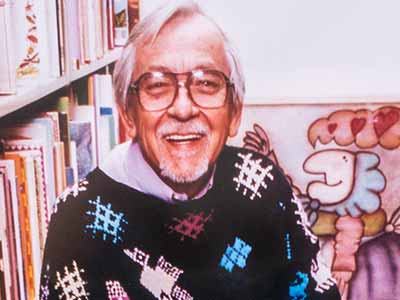 View the Original Collection
The Center's fast-growing collection began with a donation from Arne Nixon. In 1995, Professor Nixon donated 22,000 books to the Library. When he died in 1997, he left the Library a generous bequest to establish the Arne Nixon Center. The books, dating from 1865 to 1997, are international and multicultural in scope.
Highlights of the general collection include:
American and British titles from 1865
Fiction for young adults
First editions autographed by authors or embellished by illustrators
Books by or about Frances Hodgson Burnett
Leo Politi books and original art
Books about California and the West
Multicultural and foreign language books
Nordic and Finnish language books (reflecting Arne Nixon's heritage)
St. Nicholas magazine
---
Cloth Books e-Collection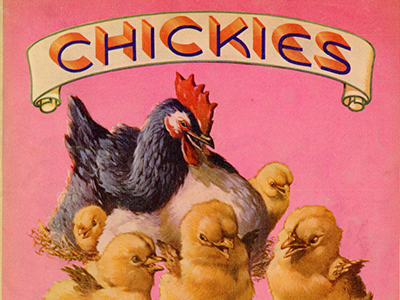 View the Cloth Books e-Collection
The Arne Nixon Center has collected and preserved a number of cloth books with publication dates ranging from the 1860s to the 1960s. Between August of 2014 and January of 2015, a significant portion of Arne Nixon Center's collection of cloth books were digitized.
Made of muslin, linen, and "linen-like" paper, with publication dates spanning the nineteenth century and much of the twentieth, the cloth and cloth-like books in Arne Nixon Center's collection represent an important but largely forgotten era of children's publishing. Specifically, these books are important because their design and content reflects changing attitudes toward children and the concept of "childhood" within the Western world. Whereas many early children's books were made to be shown to children but not touched or handled by them, beginning in the mid-1800s children's publishers began to create books children could manipulate on their own. Many of the earliest designs were printed on thick, "untearable" papers, but by the turn of the twentieth century most children's publishers used linen-mounted paper, linen, and muslin. The muslin texts, sometimes called "rag books", were especially well-designed for use by children and families in that they were resistant to tearing and could be washed. Alongside such innovations, content and illustrations evolved to shape children's experiences of reading in more constructive ways.
---
Helen Monnette Amestoy Collection of Books About Cats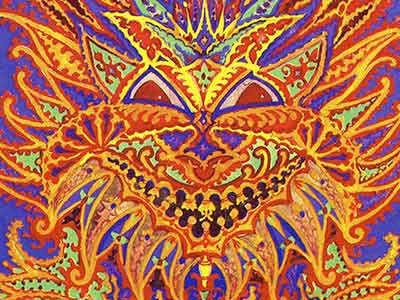 View the Amestoy Collection
The Helen Monnette Amestoy Collection of Books on Cats is the largest known collection of cat books in any library: this growing collection contains more than 6,000 volumes, primarily children's picture books. Helen Monnette Amestoy was a prominent California librarian who spent a lifetime collecting these materials. After her death in 2004, her daughters Margot Amestoy Antinoja and Kami Amestoy Lee donated the collection to the Arne Nixon Center.
The collection includes a signed and numbered copy of the 1930 Book of Cats, Being Twenty Drawings by Japanese painter and etcher Tsugouharu Foujita (1886-1968), combined with the "prose poems" of Michael Joseph, a London publisher. Other highlights include foreign language editions, miniature books, books illustrated with photographs and comic strips, travel books, cat psychology books, quotation books, titles by Louis Wain, Clare Turlay Newberry, and Kathleen Hale, and sub-collections of Puss in Boots, The Three Little Kittens, and Dick Whittington and His Cat.
In addition to books, the collection includes framed pictures, periodicals, puzzles, dolls, posters, audio and video cassettes, ceramic plates and figures, calendars, postcards, statues, and other ephemera.
---
Leo Politi Collection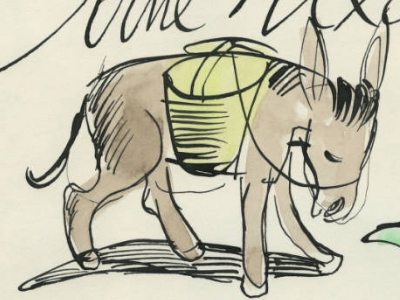 View the Politi Collection
The Leo Politi Collection encompasses original artwork, books, and inscriptions by the award-winning children's author and illustrator Leo Politi. Politi, who was born in Fresno, lived most of his adult life in Los Angeles, but returned often to Fresno, where he gave talks at events sponsored by his dear friend, Professor Arne Nixon.
The Arne Nixon Center houses original Politi artwork and books, among them such favorites as Moy Moy; Mr. Fong's Toy Shop; Pedro, the Angel of Olvera Street, Juanita, and the Caldecott Medal Winner Song of the Swallows.
The Leo Politi digital collection of inscriptions contains scans of original artwork that comes from the front pages of many of his published books that are housed in the Center. Politi often took the time to embellish each book he signed with original watercolor and ink designs. Included in this collection are Politi's inscriptions to his close friend Arne Nixon as well as inscriptions to other individuals. Most came from Arne Nixon's personal collection. Additional inscriptions came from books that were donated to the Center.
On June 2, 2010, a dedication ceremony was held for the Leo Politi Garden, located on the east side of the Library at Fresno State. The garden honors the friendship between Politi and Nixon, funded by the Arne Nixon Center Advocates, a support group of the Center, and designed by landscape architect Bob Boro. Boro designed the garden based on Politi's art. The plants chosen are typical of Los Angeles home gardens like Politi's and includes lilies, elephant ears, kumquat trees, baby tears, and a tulip tree.
The garden also features two reproductions of Politi statues created by sculptor Lester Harries, as well as a grouping of colorful ceramic mosaic sidewalk tiles. The original tiles, created by Politi for his own front sidewalk, were unable to be relocated due to their age and condition. Ceramicist John Cook recreated the tiles that are embedded in the walkway near the garden's fountain.
The garden received The Landscape Design Commendation for Good Land Use award, presented by California Garden Clubs. The organization also gave the garden's designer, Bob Boro, the Award of Merit of Landscape Architect.
---
Lewis Carroll Collection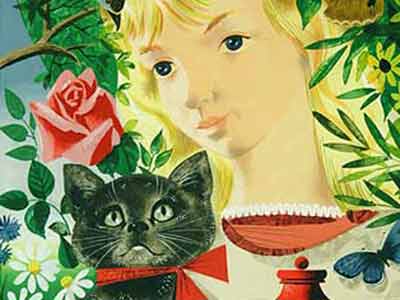 View the Carroll Collection
This growing collection of 2,000+ items was begun by Hilda Bohem, a Carrollian scholar and a special collections librarian at the University of California at Los Angeles. For 40 years she bought Lewis Carroll books and related materials.
The collection includes:
Hundreds of editions, including first editions
More than 300 illustrators represented, including a Salvador Dali numbered portfolio edition, numbered prints by Anne Bachelier, and original art by Leonard Weisgard
250 imitations, parodies, and pastiches of Alice
Many foreign language editions, many with unusual illustrations
More than 80 Macmillan editions of Carroll's work for children
More than 100 biographical and bibliographical works on Carroll or on aspects of his life
Reference books
More than 50 paperback editions of Alice, many with introductions by noted persons such as Eleanor Roosevelt and Louis Untermeyer
Publications by the Lewis Carroll Societies of Britain and North America
Rounding out the collection is a wonderful assortment of ephemera, including cartoons, playbills, greeting cards, tea sets, plates, dolls, ads, puzzles, and other materials which reflect the powerful impact of Lewis Carroll on our society.
---
LGBTQ Collection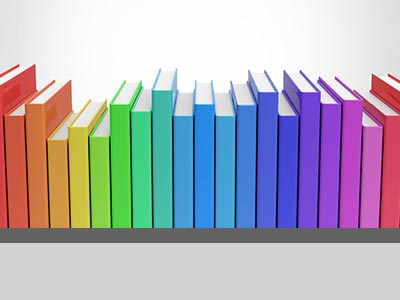 Donations from several well-known librarians have resulted in the quick growth of the LGBTQ (Lesbian, Gay, Bisexual, Transgender, Queer/Questioning) Collection, making it the largest such collection of LGBTQ children's and young adult literature in the nation.
Michael Cart gave the initial 200+ books. Cart, who lives in Indiana, is the former director of the Beverly Hills Public Library. He is an author, editor, and leader in the American Library Association (ALA), where he received the Grolier Award for lifetime achievement in promoting literature for young people. He recently made headlines as an organized group worked to have his anthology Love and Sex: Ten Stories of Truth banned from a high school in Mount Holly, New York.
Cart's gift inspired a second donation of nearly 200 books from his friend, Kathleen Horning, director of the Cooperative Children's Book Center at the University of Wisconsin-Madison and author of From Cover to Cover: Evaluating and Reviewing Children's Books. Horning is a past president of both the Association for Library Services to Children and the United States Board on Books for Young People. She has served on many book award committees, including the Newbery Committee.
This gift includes picture books, young adult novels, board books, anthologies, advance reading copies, and some bilingual and translated titles. The first book for children to depict LGBTQ issues appeared in 1967. Horning's gift includes Jesse's Dream Skirt (1979), the first picture book about a transgender child, and the 1989 self-published edition of Heather has Two Mommies, which went on to trade publication and controversy. The 1980 picture book Oh, Boy! Babies!, which shows boys caring for babies, comes with recommendations from Dr. Spock and Abigail Van Buren, presumably to help adults cope with this revolutionary concept. Gloria Goes to Gay Pride and How Would You Feel if Your Dad was Gay?, both from 1991, are early picture books about lesbian and gay families.
The gift was includes a collection of articles and early bibliographies on LGBTQ subjects. The Center seeks the papers of authors, illustrators, and publishers of LGBTQ literature for young people. Please contact the Center if you would like to donate papers or to help with this project, making the Arne Nixon Center the primary national repository for this genre.
At a time when harassment, bullying, and suicides are affecting all of our communities, these books offer hope and understanding that "It gets better."
---
Lydia Jean Kuhn Collection of Beatrix Potter and Winnie the Pooh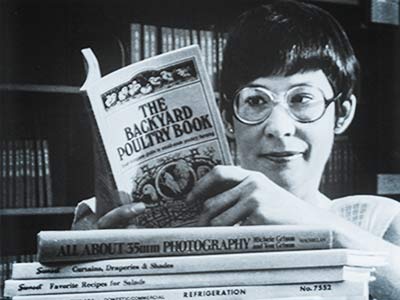 View the Kuhn Collection
Lydia Jean Kuhn, a long-time friend, librarian and avid fan of the Center passed away in 2018, leaving the Center a generous bequest. She had been donating pieces from her Beatrix Potter collection for the last several years. Many prized collectible books about the English author of Peter Rabbit and Friends were included in the gifts as were numerous glass figurines, plush characters, porcelain tea sets, and British issued silver coins.
Kuhn worked for the Fresno County Library for 33 years before her retirement in 2003. Although she was in charge of Adult Services, she organized several library fundraisers for children and families featuring her favorite storybook characters, Peter Rabbit, Winnie-the-Pooh, Mother Goose and the Cat in the Hat. Always engaged in the reading community, she was past president of the Fresno Branch of AAUW, the Forum, and Friday Club, program vice president of San Joaquin Valley Town Hall, and secretary of the William Saroyan Society. Kuhn was also an expert and collected memorabilia on subjects of the British Royals, the Titanic, Dia de los Muertos, and Frida Kahlo.
A bitter-sweet surprise for the Center was, upon her death, Kuhn gifted not only her remaining Beatrix Potter and Winnie-the-Pooh collections but most of her worldy assets.
Kuhn's life will always be remembered through her many accoomplishments, her Beatrix Potter and Winnie-the-Pooh collections and her kind-hearted gift to the Center.
---
Michael Cart Collection of Children's Books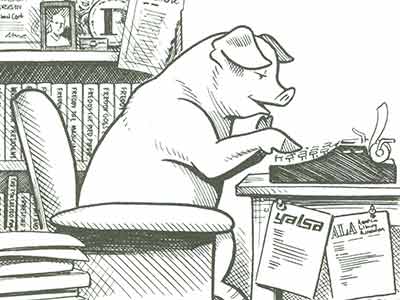 Michael Cart is an author, editor, Booklist columnist, critic, book reviewer, television interviewer, consultant, teacher, lecturer, librarian, and the nation's leading expert on young adult literature. Formerly the director of the Beverly Hills Public Library, he is a founding member of the Arne Nixon Center's Governing Committee. Since the Center's opening in 2001, he has donated thousands of books, including hundreds of valuable first editions, and he has pledged his entire collection to the Center. He has also donated many other materials including video recordings of his syndicated author-interview television program, In Print.
As president of the Young Adult Services Library Association, a division of the American Library Association, he led the effort to found the Michael L. Printz Award for Excellence in Young Adult Literature. In 2000, the American Library Association gave him the Grolier Award for lifelong achievement in service to children and young adults.
Because the books that Michael Cart has donated over the years encompass so many different topics, his books can be found in all parts of the Arne Nixon Center: namely the general ANC collection and LGBTQ books. A digital bookplate is being designed to denote the books donated by him so they can be easily identified.
---
Walter Brooks Collection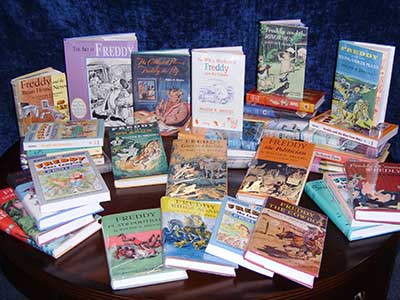 View the Brooks Collection
Walter Brooks was an American writer best remembered for his short stories on Mister Ed the Talking Horse and children's books, particularly those about Freddy the Pig and other anthropomorphic animal inhabitants of the "Bean farm" in upstate New York.
A childhood fan of the Freddy the Pig series, Michael Cart published his book, Talking animals and others: the life and work of Walter R. Brooks, creator of Freddy the pig in 2009. Cart has spoken and written often of his childhood love for the Freddy series. Now, in what he calls "his life's work", he tells the story of Freddy's creator from Brook's idyllic childhood in turn-of-the-century upstate New York, to his career as a columnist and short story writer for sophisticated publications like The New Yorker and Esquire. His supreme accomplishment, the 25 Freddy novels, are filled with wit, travel, and adventure.
Sadly, Cart never met Brooks, who died in 1958. He studied his subject in archival materials, in the author's personal files, and in interviews with Mrs. Brooks and friends. Eventually Cart bought the personal library of Walter R. Brooks and has donated it to the Center.
The Friends of Freddy, a literary society of which Cart is a past president, hosts Freddy conventions. For more information about Freddy or the society, visit freddythepig.org.
---
World Languages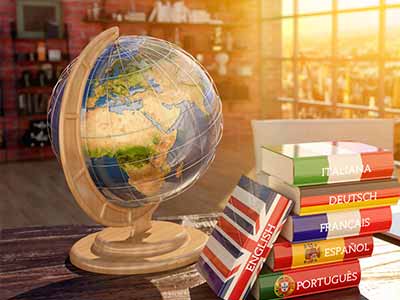 Over 50 different languages represented, including Finnish (Arne's heritage) and Spanish, donated by Alma Flor Ada and Isabel Campoy.
Some of the languages included are:
Aymara
English
Farsi
Georgian
Greek
Gujarat
Hindi
Inuktitut
Kurdish
Lakota
Latvian
Malay
Mongolian
Russian
Tanzanian
Ukrainian
---
Authors' and Illustrators' Papers
Below is a list of the authors and illustrators whose papers or art are held by the Arne Nixon Center. For an overview, visit ArchivesSpace @ Fresno State Library. For those collections that have been processed, clicking on the bolded name will direct you to the finding aid for their materials.
Bruel, Nick
Bryan, Ashley
Cart, Michael
Docherty, John
Fleischman, Sid
Flores, Carolyn Dee
Grossnickle Hines, Anna
Hurd, Thacher
Politi, Leo
Rand, Ted
Sanderson, Ruth
Wayland, April Halprin
---
Other Children's Literature Collections and Organizations
Below are some links to websites of other collections of children's literature and children's literature organizations.