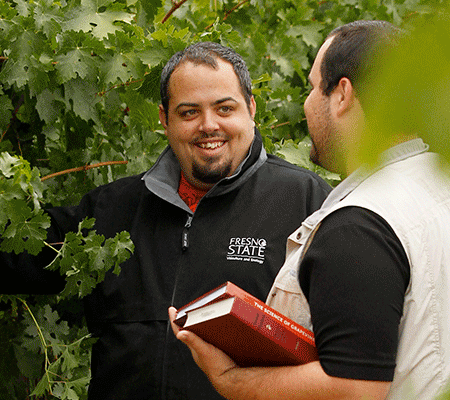 "To serve Fresno State, the grape, wine, and raisin industries, and the public through access to research and information promoting the understanding and development of the disciplines of viticulture and enology."

— Our Mission Statement
The Viticulture and Enology Library is a collection of the Fresno State Library, and is supported through funding from the Viticulture and Enology Alumni Association and the Jordan College of Agricultural Sciences and Technology.
Our library is located in the Vincent E. Petrucci Viticulture building. The building is named after Petrucci, founder of the viticulture and enology programs at Fresno State. The library supports and continues Petrucci's legacy of excellence in academics, research, and extension in the heart of California's Central Valley.
Library resources reflect the diversity of our patron community, with materials generated by the Department of Viticulture and Enology, by public and private research institutions and associations, and by other resources released regionally, nationally, and globally.
For those looking for research resources, we have prepared a subject guide just for you, our online Viticulture and Enology Research Guide.
---
Library Staff
Tricia Totherow
Born and raised in the heart of California's Central Valley, Tricia brings to the Viticulture and Enology Library her knowledge and experience achieved via Certification in Library Technology, as well as many years experience working with both the Fresno County Public Library and Central Unified School District.
Contact Information
Vincent E. Petrucci Viticulture Building
2360 E. Barstow Ave., M/S VR89
Fresno, CA 93740
P: 559.278.5388
Viticulture and Enology Library Committee
The library committee serves as the advisory board for the Viticulture and Enology Library. Composed of individuals invested in and dedicated to the advancement of the library, a diverse range of stakeholders is represented in the committee membership.

Department of Viticulture and Enology
Anil Shrestha, Director, Viticulture & Enology Research Center
Sonet Van Zyl, Chair, Department of Viticulture & Enology and Associate Professor of Viticulture
Industry and Alumni
Tim Mendonca, President of the Viticulture and Enology Alumni Association
Hugh Callison, Viticulture and Enology Alumni Association
Jon Holmquist, Viticulture and Enology Alumni Association