About the Arne Nixon Center
We are so proud to share more information about those involved with our center.
---
Our Founder
Arne John Nixon was born in 1927 to a Finnish-American family in Frederick, South Dakota. He taught school in North Dakota, Washington State (where he taught Native American students), The Sudan, and in Tulare, California. After receiving a doctorate in education at Columbia University, he joined the faculty of California State University, Fresno, in 1961. Here he taught children's literature and storytelling for more than thirty years, organizing programs that attracted tens of thousands of people. Programs he sponsored, featuring dozens of America's best-known authors and illustrators, helped to establish Fresno State as a center for the study of children's literature.
A sought-after speaker, Dr. Nixon told stories to audiences throughout California and around the world. Wherever he traveled, he bought children's books. He donated his collection of 22,000 volumes to the Fresno State Library in 1995, founding the Arne Nixon Center for the Study of Children's Literature. When he died in 1997, he left the library a generous bequest in his will to ensure that the Center would perpetuate his work.
People who listened to Arne Nixon's stories encouraged him to write his own books for children, but he always declined. "It is the function of some people to be a lamp and some to be a mirror," he explained. "I have been very pleased to function as a mirror of others' work." Some would say it was a magic mirror, one that changed the lives of his students and audiences. His spirit and his work live on in the Arne Nixon Center.
---
Our Librarian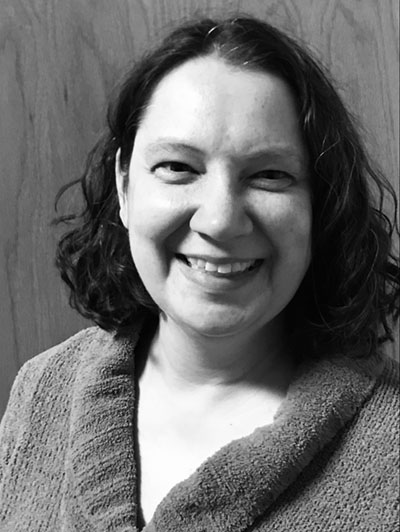 We are pleased to announce Suzan Alteri as our new Arne Nixon Center librarian. As evidenced during her interview with us, Suzan is a highly skilled and experienced special collections librarian with deep and impactful expertise in children's literature. She comes to us from the Baldwin Library of Historical Children's Literature at the University of Florida, Gainesville, where she has held the position of curator since 2012.
During her time in Florida, she initiated a focus on using primary sources in undergraduate research as well as textual analysis in multiple humanities disciplines. She has also developed two English courses, one at the University of Florida and one at Georgia Tech University, in which students use both physical and digital historical children's literature texts to develop digital humanities sites as well as digital exhibitions. In the course at Florida, she collaborated with a graduate student instructor to develop an opportunity for upper-level undergraduate students to closely analyze the theme of death in children's literature ranging from rare early American and British texts to present-day children's books on grieving. She has also co-taught a graduate level course with a faculty member on archival literacy titled In the Archive: Reading in the Baldwin Library. As she puts it, "Exposing undergraduate students to special collections and to conducting research assignments with primary sources is a cornerstone of my pedagogy." Suzan has reached thousands of undergraduates and graduate students in her instruction. For her efforts, Suzan was named the Instruction Coordinator for her department in 2018 and given the Library Employee Excellence in Instruction Award in 2019.
In addition, Suzan is a scholar in her own right. Her current research focuses on scientific publications written by women. She is developing a digital bibliography titled Guiding Science: Publications by Women during the Romantic and Victorian Ages, which highlights women's role in science education and their historic contributions to science and the flow of ideas. Her other current research project involves an international research grant with the University of Cambridge and the University of Antwerp on the subject of diversifying digital collections of children's literature.
Suzan created the Baldwin Library Scholars Council, made up of people in the field of children's literature at the university and beyond, to help gauge trends in scholarship on children's literature and to bring in fresh perspectives on how to use the collection to enrich and enhance the experience of the different communities the collection serves.
She is also active and proactive in community engagement, collaborating with local schools and the public library to organize author events and show and tell presentations. A recent event of hers was a day-long event at a local school's 21st Century summer camp entitled Underrepresentation and Digital Literacy. In this summer camp, Suzan developed an activity drawing upon diverse books from the Baldwin Library for campers to a GIF story based on the books they read.
I know you will join us in welcoming our newest library faculty member to the Fresno State Library team. Suzan will begin her new position in January 2021 and is excited to start her new job in the new year. She shares this parting thought in anticipation of her arrival, "My mind is abuzz with ideas about how the Center can expand its research initiatives, continue to build good will for the university, and enrich the reading lives of many different communities."
We welcome Suzan to the Arne Nixon Center and to the Fresno State Library!