ANC Projects
Some of our greatest enjoyments, and contributions to our community, come when we collaborate with other local groups and artists. We share details about such activities on this page.
---
ANC Mural Project
The Arne Nixon Center Community Mural was completed May 2019. Thank you to Rafael López for his beautiful design and guidance along the way and to all of our amazing volunteers, supporters, and donors. This was a COMMUNITY project and we couldn't have done it without you!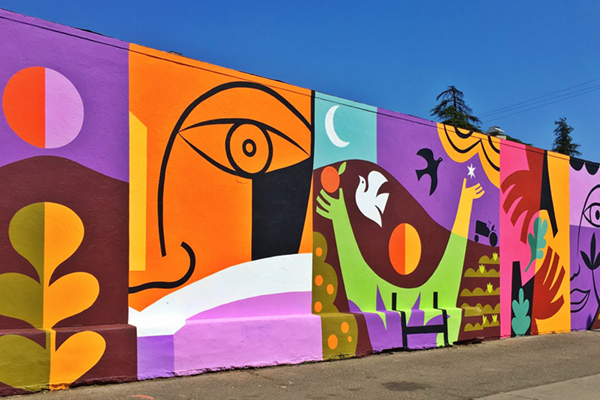 Our Motivations For This Effort
This is how we explained our hopes at that time and this content was found on the supporting website's "About" page.
"Why a mural?"
We know that art has transformative power. It can express ideas and feeling in ways that other communication cannot. But art is often denied those without the funds to visit the establishments where it is housed. Public displays, and murals in particular, bring art out of the realm of the galleries and museums and into the light of the everyday viewer. A community mural takes this idea one step further by transforming that everyday viewer into the active participant—the artist.
Internationally known and award-winning children's illustrator and muralist, Rafael López will work with the Arne Nixon Center volunteers and community members to design and create a community mural to be constructed in Fresno the week of May 6 – 11. López has created mural designs for cities across the United States. Beautiful examples can be found in San Diego, Chicago, Fort Collins and more recently in Pittsburg, CA. Fresno's community mural will be located at the corner of Cedar and Tulare and has the complete support of the building's owner.
The desired outcome of this project is to unite diverse groups of people from the immediate neighborhood and wider community to create a beautiful work of public art. The hope is also to create a sense of pride and accomplishment in the hearts of those who have worked together to undertake this achievable goal. They will have played an integral part in creating an astounding mural that fosters collaboration and represents the breadth of our human spirit.
We are excited to work with neighborhood elementary schools to also serve as a bridge to literacy. We will work with teachers to bring a curriculum designed around the book, Maybe Something Beautiful by Isabel Campoy and Theresa Howell and illustrated by Rafael López. The book is a fictionalized account of how one little girl brings color and beauty to her own neighborhood through the help of a muralist. They engage the whole community in creating something beautiful to benefit everyone. Like in the book, the Center along with its sponsoring parties will hold a culminating dedication party with food, drink, music and celebration!
The addition of community-participatory art will uplift both the physical neighborhood and the spirits of the people in it. This action also provides a platform from which to promote children's literature through the hands-on work of a highly respected and prolific children's illustrator.