Over the years, we have noticed our visitors have benefited from receiving the following information. For your ease of reading, use the following to jump to any section:
Useful Information

About Gifts to Us
Conservation and Book Binding
Primary Sources
Understanding Old Books
Monetary Valuations
Visiting from Out of Town
How to Cite Materials

Services and Fees

Photocopying Rates and Surcharges
Digital Reproductions
Faxing
Other Fees
Collection Processing Costs

Copyright Policies

Photocopying (Printed materials photographic reproductions)
Use in Publications (Manuscript materials and Photographs)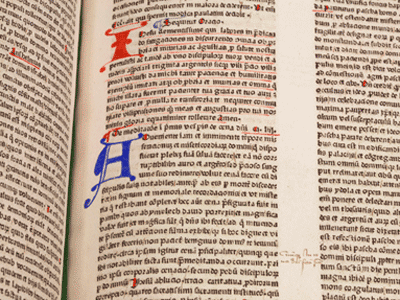 Some illuminated pages from Vita Christi, by Ludolf of Saxony, 1474.
The oldest book, and sole incunabula, in the library's collection.
---
Useful Information
About Gifts to Us
Gifts of books or manuscript collections that complement our collection's strengths are welcome. We also welcome monetary donations to support special projects, future acquisitions, and collection endowments. To discuss a possible gift or donation, please contact Tammy Lau, Head of Special Collections, 559.278.2595.
Visit our Services and Fees section, for more detail on our collection processing costs.
Please note that is is our policy not to accept digitized versions of items we do not physically own in our collection nor scan items from private collections and make them available online with our digitized collections.
Conservation and Book Binding
We do not know of any book or paper conservators to recommend in Fresno or the San Joaquin Valley. However, there is a reputable website that allows you to search for an appropriate conservation professional or book binder in your area. Please visit the American Institute for Conservation of Historic and Artistic Works (AIC) tool.
Primary Sources
We highly recommend that you review how to understand, evaluate and use primary sources using the Library of Congress American Memory web site (see their Student Lesson). Our library has a guide to primary sources, located here: libguides.csufresno.edu/primarysources.
If our library does not have the primary sources you need for your research (either in Special Collections or in Microfilms), you can find other sources in repositories across the country; but you are often required to visit in-person.
For further assistance in locating primary sources or conducting primary research, please set up an appointment with Tammy Lau, Head of Special Collections, (559) 278-2595.
Understanding Old Books
Here is some useful, basic information on understanding old, rare and valuable books, from Rare Books and Manuscripts Section, a website related to the American Library Association: rbms.info/yob
Monetary Valuations
We do not provide monetary valuations for any books, objects (souvenirs, antiques), collections, manuscripts, maps, artwork or any other materials. To find a value for a book, you can consult with a book dealer in your area or check on one of these online commercial sites for antiquarian and out-of-print books: Advance Book Exchange or Bookfinder.com
For other materials, depending on what the item is, the Smithsonian Institution has a handy online resource guide to appraisals of different types of artifacts: www.si.edu/Encyclopedia_SI/id-obj.htm
If you would like to find a professional appraiser for your item or collection, there is a database from the Appraisers Association of American you can search to locate one: Find An Appraiser
If you feel there is significant value, there are auction houses that do free appraisals. All in are in the Bay area:
Visiting from Out of Town
If you are visiting from out of town, please let us know in advance so we will know when to expect you and be able to have materials ready for you. Parking on campus is enforced. You will need to buy a daily parking permit ($3) at one of the dispensers near the campus entrances, use a coin-operated meter ($1/hour), or go to the Traffic Operations Office in the campus police station (2311 E. Barstow Avenue). Please refer to the campus map if you need assistance in navigating around campus.
For overnight accommodations, there are at least four hotel/motels near campus:
University Inn at 2655 E. Shaw Avenue; 800.800.8000 or 559.294.0224
University Square Hotel at 4961 N. Cedar Avenue; 559.224.4200
Holiday Inn Express and Suites at 650 W. Shaw Avenue, Clovis; 559.297.0555
Hilton Garden Inn Clovis at 520 W. Shaw Avenue, Clovis; 559.299.2203
For further information regarding Fresno, please refer to our LibGuide: Fresno and the Surrounding Area.
How to Cite Materials
When citing any materials from one of our collections, please use the following as our official name: Special Collections Research Center, California State University, Fresno
---
Services and Fees
Our Center offers many services to researchers interested in our materials.
Once the cost has been determined and arrangements have been made, please download, sign and date the appropriate copyright agreement (Photocopy or Photograph) and send it to us via U.S. mail or email.
All requests must be prepaid. The following methods of payment are accepted:
Visa/Mastercard–10% surcharge, no minimum
Photocopying Rates
| Size | B & W | Color |
| --- | --- | --- |
| 8 ½ x 11 | $ .25 | $ .75 |
| 8 ½ x 14 | $ .50 | $1.00 |
| 11 x 17 | $ .75 | $1.50 |
Photocopy Surcharges
25-50 copies = $10
50-100 copies = $25
101-299 copies = $45
300-499 copies = $75
500-749 copies = $125
More than 750 copies = $200
Digital Reproductions
$5 per scan for Academics (students and professors).
$25 per scan for non-Academics.
Other Fees
| Fee Type | Non-profit Use | Commercial Use | Academic Use |
| --- | --- | --- | --- |
| Use of copyrighted images in publications, printed matter or other media | $25 per item | Negotiated ($50 minimum per item) | $5 per item |
| Rush fee | $10 per item | $25 per item | $10 per item |
Shipping & handling: Minimum fee is $5 per request. Overnight Express and other special delivery services are provided at cost plus a $25 handling fee and the rush fee.
Collection Processing Costs
In light of the cost of archival supplies and processing costs, Special Collections has established a standard equation to estimate the costs associated with accepting new collections for the manuscript collection, faculty papers and Distinguished Alumni papers collections. This equation may change over time as costs and wages increase.
Manuscript collections/personal papers/organizational records:
Cost of archival boxes: $10 per box (with tax and shipping; each box represents a linear foot)
Cost of archival folders: $25 per linear foot (roughly 50 folders per box)
Processing and creation of finding aid guide: $265 per linear foot (averages 18 hours per linear foot x student assistant hourly wage)
Total = $300 per linear foot
Digitized collections:
Scanning and metadata input (description for each item and making digital collection accessible online): $6 per image
Books:
$100 per book (includes specialized catalog record in CSU ALMA system as well as Worldcat and a customized physical bookplate as well as digital bookplate)
Oral histories:
$300 per hour (includes transfer of files to web-ready format and preservation copies, full transcription and captioning and accessibility on web)
---
Copyright Policies
In order to understand copyright implications, our campus has a number of different references and sources; including the library copyright policy.
Photocopying
Special Collections staff do all of the photocopying for patrons and follow all copyright rules using the Library's understanding of the law and common sense "best practices." These rules are consistently applied to all library patrons. It is implicit that all photocopying done for patrons of the Special Collections Research Center is in lieu of notetaking and is to be used for private study, scholarship or research and not for publication or any commercial (for-profit) purpose.
Books and printed materials
Entire books cannot be photocopied unless they are in the public domain (see public domain/copyright term chart) or are out-of–print and not available for purchase. Portions of books still protected by copyright may be photocopied provided that the amount and nature fall within the "fair use" guidelines. This is judged on a case-by-case basis.
In general, printed materials (i.e. pamphlets) are considered published and therefore enjoy copyright protection accordingly. Unless the item was produced by the U.S. government or by California State University, Fresno, or was published before 1923, in most cases the item is still regulated by copyright law. Thus, if a patron would like to have an entire item photocopied, he or she must first obtain permission from the copyright holder.
Manuscript materials
Most manuscript materials can be photocopied as a convenience to researchers, in lieu of notetaking, unless there is a specific restriction on photocopying as formally specified on the donor agreement by the creator/donor.
Reproductions of photographs
Reproductions of loose photographs can be made if they are for personal use or a one-time educational purpose. Photographs by commercial photographers may have restrictions attached to them and copies should be requested through their own agents. Personal photographs (loose or in albums) in manuscript collections fall under the same rules as manuscript materials.
Use in Publications
Manuscript materials
The vast majority of Special Collection's manuscript materials are unique items that have not been published but are protected by copyright law. No unpublished manuscript item will be in public domain before January 1, 2003. However, in some collections, copyright has been formally transferred to California State University, Fresno. In those cases, permission to publish is obtained from a representative of the University (in this instance, the Head of Special Collections). Otherwise, permission to quote from an item or publish it must be sought from the copyright holder or his/her heirs. Special Collections staff will assist patrons in identifying copyright holders of manuscript materials whenever possible. It should be noted, however, that the physical ownership of an item does not signify that the Library owns the intellectual property rights as well. Unless copyright has been formally transferred to the University through a written document, copyright remains in the hands of the creator or his/her heirs.*
If the Special Collections Research Center only owns photocopies of original materials housed elsewhere, the patron should contact that library/repository for permission to publish or for further information on the copyright holder.
All materials created by California State University, Fresno as a public institution are considered automatically in the public domain.
* In the case of letters, copyright does not belong to the recipient of the letter but rather to the creator/writer. Thus, even if a donor transfers copyright to the university, the copyright to letters written to the donor (but not by the donor) remains with the creator of the letters.
Photographs
For a great number of the loose photographs housed in the Special Collections Research Center, there is no information as to the copyright holder or creator/photographer. In these cases, while the Library may allow the patron to have a photographic reproduction of the image, such an action does not in any way impart permission to publish. If the Library does not own the intellectual property rights to an item, it cannot grant or deny permission to use the item in a publication. The decision to publish or not is entirely up to the patron, who thereby assumes all liability and risks associated with possible copyright infringement. Moreover, the patron indemnifies the Library from sharing in that liability and risk.
As in the case with letters, photographs in a collection to which copyright has been transferred to the University are not necessarily copyright free. If the donor was not the creator of the photographs, copyright remains with the original photographer or his/her heirs, regardless of who owns the actual photographs.
If a photograph was taken by a professional photographer, copyright is retained by that photographer, his/her agents or heirs, unless the image was a work for hire, in which case copyright belongs to the photographer's client or heirs.