Library Lockers
Fresno State students, faculty, and staff can borrow library books from our circulating collections through the Library's Locker service.
The lockers are located centrally on campus at the northeast corner of the University Center building by the fountain. You can pick up your items 24 hours a day, seven days a week after being notified that they are ready. If you require an accommodation to use the Lockers, please contact Library Access Services at library-access-services@mail.fresnostate.edu or call 559.278.2551.
Instructions for Using the Lockers
Watch this video, or read the instructions that follow, to learn how to order and retrieve your materials:
Starting in OneSearch, search for books/media by title, author, or keywords, and click Sign in to sign into your OneSearch account.
After selecting the title of your item, click Request and select Lockers from the Pickup Location menu to have your item paged by library staff, checked out to you, and placed in a locker.
After receiving a request confirmation email from the Library, you will also receive an email from Luxer One, the locker company, to set up an account and download the Luxer One Mobile App to your iPhone or Android device. This app allows for touchless opening of your assigned locker. If downloading an app is not an option, you can also use the touchscreen which is located at the lockers.
Once notified via Fresno State email that your items are ready for pickup, you will receive a numeric code and QR code to open your locker using the app or the touchscreen at the lockers.
Your requested items will be available for pick up at the Lockers.
Your items will be available for pickup for the next 6 days, and email reminders will be sent until you pick them up. After 6 days, any items not picked up will be returned to the library stacks and removed from your account. At that point, you will have to request them again if you still want them.
When you are finished with your books, simply return the items to one of the library book drops.
If you need help, contact Library Access Services during Library hours at 559.278.2551 or visit the Circulation Desk in the library. After business hours, you can email at library-access-services@mail.fresnostate.edu. Alternatively, you may request support using the Luxer One chat service, email support@luxerone.com, or call 415.390.0123.
---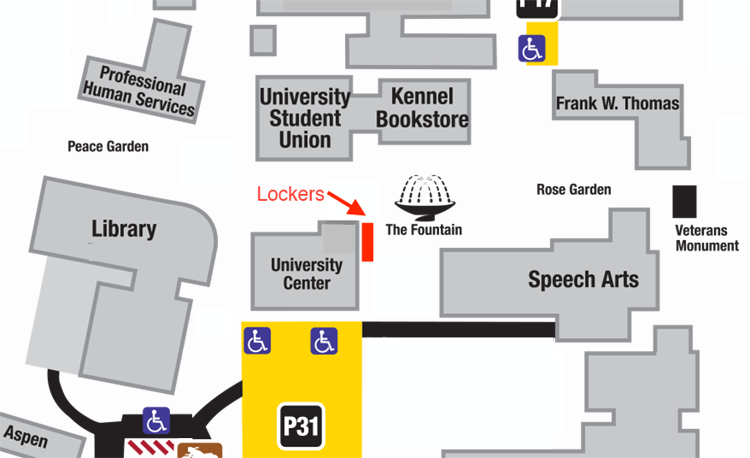 A map showing the lockers in relation to the fountain by the University Center—click on it to see a slightly larger version.
---
Frequently Asked Questions
Fresno State students, faculty, and staff can borrow library books through our Library Lockers service.
Not at this time. Requesting Interlibrary Loan (ILL) or CSU+ items through the locker service is a functionality that the library plans to enable in the near future.
Assuming the requested book is available in the Library, it usually takes 1-2 business days from request to pickup notification.
When you are finished with your books, simply return them to one of the Library book drops, or they can be returned to the Circulation Desk during Library hours.
The Fresno State campus grounds are open 24 hours per day, 7 days per week.